Professor

Posts: 343
Joined: Fri Sep 17, 2010 9:34 am
Diamond/Pearl/Platinum Friend Code: ****-****-****
Heart Gold/Soul Silver Friend Code: 4082-8033-3764
From 26 Nov to 26 Dec, Tampines Mall was invaded by Pokémon! The event was at its peak when Team Robo started the Pokémon City Championship as well as the NDS VIdeo Game Christmas Bash.
Firstly, let get on to the first video game event that is fully organized by Team Robo -
The battle Mall Silver Challenge
.
At 1.30pm of the bright sunny day light afternoon of 18 Dec 2010, Team Robo started its Pokémon Christmas Bash Video Game Event. The Battle Mall Silver Challenge is inspired by the Elite 4 Challenge found in every region of the main Pokémon game. The registration for challenge lasted till 5pm on weekends and up to 4.30pm on weekdays; all the way till Christmas Day, 25 Dec 2010. It ended at about 8pm to 9pm everyday.
The event is led by Battle Mall Captain, Soon, Pokémon Battle Judge of Team Robo (Video Games) and 4 Team Robo Video Games Member: Ryan Loh, Max Goh, Al Nalif aka Knife and Fabian.
To allow a greater share of Pokémon Players participating in the event, Team Robo allows all versions of 4th generation Pokémon Games (Diamond, Pearl, Platinum, Heart Gold and Soul Silver) were allowed in the Battle Mall Silver Challenge. Challengers are required challenge Battle Mall Trainer at level 1, level 2 and level 3 to get 3 consecutive wins in order to challenge the Battle Mall Captain on Level 4. Defeating the Battle Mall Captain will marks the challengers completion of Battle Mall Silver Challenge.

The Battle Mall Trainers and Pokémon
There is a certain difficulty in challenge the Battle Mall Silver Challenge. Trainers are expected to defeat Elite 4 in their Pokémon Diamond, Pearl & Platinum or collected 16 badges in their Pokémon Heart Gold & Soul Silver Video Games.
All Battle Mall Trainers will only use 3 Pokémon and the total level of the Pokémon adds up to 150. As all 4th generation games are allowed to participate, battle in done in Battles for 2 -> Single Battle, No Restrictions.
On the first floor: Scientist RyanIg
They used a team of unevolved Pokémon that is often associated with Christmas. They are all level 50 and were casually trained: Snover, Stantler, Delibird
On Level 2: Team Magma Grunt KNIFE
Challengers who played Ruby, Sapphire and Emerald will immediately know who he is. Reviving the Team Magma feel, he used a team is associated with Team Magma: Houndoom*, Aggron, Groundon
*With proper EVs
On Level 3: Youngster FAB
Fabian uses Common yet dangerous Pokémon. Challengers will have a small taste of competitive battling. Team inclusive of:
Brave (FEAR) Rattata, Adamant Staraptor and Modest Raticate.
All Pokémon have very decent IVs and proper EVs.
On Level 4: Battle Mall Captain Soon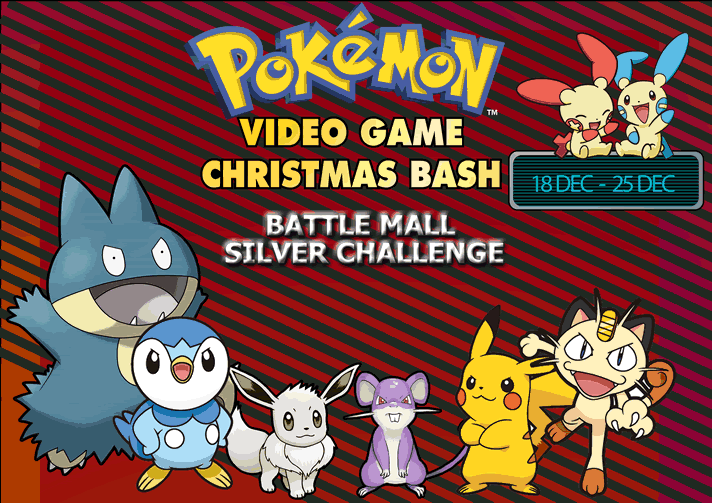 Battle Mall Captain Soon's Silver Challenge Team
Bottom Left to Right: CALEX, EARL, イヴーイ, ESTEL, PIKACHU (VENICE), KIKI
Top right: ETUM & MERIKKI
Photo credits to Allen Rui Xiang)
The battle with Battle Mall Captain uses Flat leveling function from the Pokémon Battle Revolution to test trainers' ability. All Soon's Pokémon team is mostly unevolved and were hardly used in most battles, but they were properly trained and battled competitively. It is dub as the Joker Team by the some fans. Some of the Challengers had their face turned blue when their exotic Legendries are being defeated by them. Some challenges felt pressured when they realize that their Pokémon can hardly touch the Battle Mall Captain's Pokémon, while some who knows their stuff, won the Challenge with breeze.
Total number of registered Challengers:
228
Total number of Challengers that Cleared Silver Challenge:
108
*Figures does not excluded repeated Silver Challengers.
Last edited by
soon
on Thu Dec 30, 2010 5:35 pm, edited 1 time in total.