Posts: 20
Joined: Tue Jun 21, 2011 11:34 pm
Diamond/Pearl/Platinum Friend Code: ****-****-****
Heart Gold/Soul Silver Friend Code: ****-****-****
<Introduction>
Hi, I'm Elite Four Low Wai Yin, and this is my ridiculously long wall-of-text report on the 2014 Elite Four Challenge! I've been playing Pokémon since 1998, and have been an active competitive player in the Singapore scene since 2011, when I made Top 16 in that year's Elite 4. I've also participated in the World Championships in 2013, and since I decided not to go this year, the Elite Four challenge was the first and last time I actively participated in a VGC 14 tournament.
For 2014, I didn't actually really like the metagame much, and spent most of the year since the VGC 14 ruleset was announced playing around with a really unstable Charizard X team that... didn't really do too well in the long run and had issues with most of the top mons in the meta. It wasn't until March or April that I built this team (or as Kit Meng, my brother and 2012 E4, would attest, just copied whatever he was musing at the time over dinner) and after months of struggling for every victory, it felt good to have a team that you knew all the damage calculations/speed tiers to and wasn't completely reliant on you trying to predict everything every turn every battle with a Charizard X bluff. Admittedly, it's quite outdated and some of the sets are considered 'gimmicks' and I'm pretty sure half of the people who read this would think I'm probably some scrub that made it through by sheer chance (honestly I'm not dismissing that option either) but it did decently well on Showdown (75% win rate and breached 1400- yes I have low standards) and I had never felt so comfortable with a team ever before as with this one.
<Team Outline>
As is the case for most of my successful teams, this team was originally built around a 'gimmick'- or rather, by my intense hatred of Kanga-Smeargle teams. The original lineup of the team was supposed to be for Kangaskhan-Smeargle, in a weird reasoning of 'if I run Kanga-Smeargle I can figure out what stops it so then I can implement this knowledge to stop it later'. Kit Meng was the one who originally came up with the concept. Basically, our idea was that in most cases, Kanga-Smear was a thing that people only usually had one counter for; and if so, then there would be a fallback of Talon-Smear, with Talonflame having Quick Guard to block Fake Out, and Tailwind to make Smeargle insanely fast. And even without Smeargle, the team had enough lead options that you could probably get a good lead matchup against someone who obviously only had one Smeargle counter. Regardless, the original lineup worked so well together (even with Smeargle being dead weight in some cases) that when I saw the rankings for the top 12 Pokémon in VGC 14 sometime around March/April, I wasn't surprised that I was essentially using some of the top Pokémon of the metagame together. All I needed was to ditch Smeargle for a Salamence and I'd have a standard goodstuff team made up of the Top 6 of VGC 14.
So I did.
So without further ado, the team which I used throughout the E4 Challenge:


Carnation the Kangaskhan @ Kangaskhanite
Early Bird=> Parental Bond
Adamant, 252 HP/252 Attack/4 Speed
Fake Out/Power-Up Punch/Return/Sucker Punch
MegaMom has been the keystone of the team, usually the Pokémon I've come to rely on as my win condition. It's hard not to see why - VGC 14 is THE meta for Mega Kangskhan, it being really hard to stop with its beautiful mix of offense, defense and speed. In earlier teams, I had tried out the Jolly, speedier set, but it always seemed to fail me when I needed it the most. I was originally surprised to see how effective the max HP set was, what with it making use of MKanga's defenses to sponge just about every single thing you can imagine- even Modest Charizard Y's Overheat in the sun is not a guaranteed OHKO- and with the right prediction of when to Power-Up Punch, MegaMom could rip through teams like a hot knife through butter. Unless they ran Quick Guard. That always sucked.
While I always lost the speed tie to other MKangas, I never actually minded it. As with most MKanga mirrors, to quote my other mentor, Matthew Hui (2011 Singapore E4 Champion), it always depends on which Kangaskhan managed to set up first, and knowing that I could survive just about everything opposing Kangas could throw at me made it safer for me to go for the Power-Up Punch. Knowing that the opponent outspeeds you as a certainty made it easy to predict when they'd try for the sucker punch to prevent my own +2 Kanga from sucker punching, which then made it easier for me to predict when to Quick Guard on Talon or to outplay them. Or I could switch out to Salamence or Aegislash. It was a lot of mind games.
While I wasn't against the idea of optimizing my MKanga spread instead of using 252/252/4, to be honest, I never actually felt the need to split my EVs to survive anything during testing (because MKanga just survived everything to begin with, or I wouldn't be using MKanga against the matchups where pokes could potentially OHKO and everything worked out fine) and the lack of speed didn't really bother me after a while. As for Early Bird, Carnation was the first MegaMom I trained and to be completely honest, because I was playing in French, I didn't actually notice its ability was Early Bird instead of Scrappy until AFTER I won battles with it. After which I figured if I lasted as long as I had already, it probably didn't matter - especially since I had Aegislash and other alternatives to ghosts and Parental Bond kicks in on turn 1 most battles anyway. Plus I was lazy to rebreed. I apologize - you should not follow my example.

Chompy the Garchomp @ Lum Berry
Rough Skin
Jolly, 4 HP/252 Attack/252 Speed
Rock Slide/Earthquake/Dragon Claw/Protect
Garchomp has surprisingly become one of the best Pokémon I've ever used in VGC 14. Back when I first started, I used it for a core of Garchomp-Talon-Rotom-W to support Mega Mawile, and life was good. Despite its less-than-amazing offensive capabilities, it proved to be a real scrapper for my team - Dragon Clawing many things for decent neutral damage with dragon's beautiful offensive typing, dishing out Earthquakes for spread damage or flinching opponents with Rock Slide, all the while carrying a Lum Berry to stop random statuses and hax like burns from flamethrower, or somebody swaggering a physical attacker or something. The dragon/ground typing also provided a lot of good resistances that synergized well with my team - immunity to electric attacks, resistance to rock, resistance to fire... With a team that could support its ice and dragon weaknesses, it was easy to switch Garchomp in and out, allowing it to dish small amounts of damage before retreating until late game, when it could clean up easily.
That Lum Berry also made Garchomp my main answer to Smeargle-Kangaskhan (which by now you probably realize I absolutely hate), as when it's paired with Talonflame it usually can pull off 2 Earthquakes to knock out the opposing Smeargle and deal good damage to the Kanga. Besides that, it made it easier for Garchomp to be brought out against opposing Rotom-H since I didn't need to be afraid of the burn from WoW. Essentially, Garchomp had a good balance of defense, offense and speed, which made it an invaluable offensive and defensive pivot.
Rough Skin proved extremely useful as well, dealing chip damage to opposing physical attackers and potentially netting KOs that would never have occurred otherwise, along with breaking sashes and whatnot.

Brucey the Rotom-Wash @ Sitrus Berry
Calm, 252 HP/192 Sp.Attack/52 Sp.Defense/12 Speed
Hydro Pump/Will-O-Wisp/Thunderbolt/Protect
Rotom-W was another piece of my original 'core'. He was also the only one with a customized EV spread - 252 HP 52 Sp.Defense Calm survives Timid Charizard Y Solarbeam, and stands a nice 50% of surviving Modest Charizard Y (but to be completely honest, I have no idea why I didn't go the full way and EV to survive that as well, but whatever), which also means that Rotom-W essentially became the Pokémon I could count on to sponge special attacks to a certain extent and retaliate with still enough special attack that it would actually hurt. 12 Speed to outspeed 4 Speed Rotom-W/H because let's all face it - there's always a point in time when you will end up losing a game because of a speed tie with opposing Rotom formes.
Rotom-W partners well with both Garchomp and Talonflame, sponging the ice attacks that would devastate Chomp while providing a much needed, solid check to Talonflame's threats like Rotom-H and Aerodactyl. It also helped burn opposing Aegislash and other physical attackers earlier during the metagame, although with the recent prevalence of Lum Berry, I've taken to just going for the attack more often than not instead.
Defensively, Rotom-W has only one weakness which is covered by both Aegislash and Talonflame, and it could take on the most dangerous ice Pokémon in the metagame – Mamoswine - and come out on top. This was especially useful for me since I was running double dragons as well as an Aegislash. Also it served as a good backup Pokémon in most rain matchups, which my team usually had to struggle slightly more against, and once Ludicolo or Manectric was taken out of the picture, Rotom-W could have a field day. It also gave me a solid counter to Talonflame, with an easy switch into either Flare Blitz or Brave Bird, and gave me some way to take on Azumarill (yet another thing that threatened my double dragons), after I removed the Raichu/Amoonguss redirector that it's often paired with of course.
Sitrus Berry helped a lot to keep Rotom-W alive, what with the huge amount of heavy-hitters in the metagame. Leftovers was another option I toyed with, but it didn't give Rotom-W the immediate healing that the washing machine usually needed to stay out of danger.
Rotom-W was one of the least used members of my team, and I generally brought him along for specific matchups, but occasionally he would do more than expected and remind me exactly why he's on the team.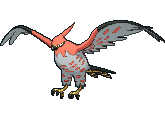 Kacaw the Talonflame @ Sky Plate
Adamant, 4 HP/252 Attack/252 Speed
Brave Bird/Flare Blitz/Quick Guard/Tailwind
Kacaw was originally a Talonflame on loan from my brother because I was lazy to breed out Talonflame in January or something, after which he decided to just give it to me since it had perfect IVs in all the relevant stats. It also holds a Sky Plate because, quote from Kit: "Sky Plate is better than Sharp Beak because it has 1 extra line of description. Therefore, it is better." We didn't like the Life Orb recoil damage and while Kit later converted to Choice Band Talonflame, I always liked my Talons to be able to do a little more than attack recklessly.
Since my team had some issues with matchups in which they lost the speed advantage (especially since I was running bulky spreads for most of my mons), Tailwind was used to exploit a possible dead turn or sacrifice itself and suddenly turn the match to my favor (unless Trick Room). Quick Guard was also used in situations where I did have the speed advantage and wanted to keep my mons from taking priority damage (Azumarill's Aqua Jet, opposing Talonflame Brave Bird, Sucker Punches being the most common), or to stop Prankster Pokémon from disrupting my team (I'm looking at you, Meowstic). Priority Brave Bird was also incredibly useful regardless of speed tiers, and Talonflame could function well enough in Trick Room so much so that I didn't really have to worry too much about outspeeding/underspeeding anything while using it.
Talonflame was one of the mons that I was willing to sacrifice for the greater good of the game, but even so, there were times that preserving it for late game or certain matchups was preferable. Were it not for the excellent team synergy it had with Garchomp, Rotom-W and Aegislash, it would have been far harder for me to use it to its full extent - and as it was, Talonflame essentially became the most common Pokémon I brought for my lead. While Sky Plate was, in no way, as damage-boosting as Choice Band or Life Orb, it didn't sap away at Talonflame's health or lock it into a single move, allowing it some flexibility for as long as it was required to stay out on the field, as well as possibly feigning a Choice Band set as long as I didn't reveal Quick Guard or Tailwind.
I ran 252 Attack because I liked my Talonflame to actually deal decent damage. 252 Speed was to at least give me a chance to win speed ties vs other Adamant Talons and to avoid Liepard Sucker Punch (Kit really liked Liepard at one point in time, so...).

Kitty the Salamence @ Choice Scarf ==> Life Orb
Modest, 4HP/252 Sp.Attack/252 Speed
Draco Meteor/Hydro Pump/Rock Slide/Fire Blast => Draco Meteor/Protect/Rock Slide/Fire Blast
Kitty was named in honor of my brother and his 10 separate Salamence sets. The last Pokémon to actually be tossed onto the team, Salamence filled the spot that was once taken by Amoonguss. I chose it over the mushroom because of a) Intimidate b) Draco Meteor c) Choice Scarf d) it pairs up with Garchomp well and e) it had far better offensive presence than Amoonguss. That and well, I always wanted to see what the big fuss over double dragons was.
To be completely fair, while Salamence has proved useful on occasion to snipe faster Pokémon like Aerodactyl, Pyroar, Manectric and other less common Pokémon, the Choice Scarf did make life far more difficult for me. It came to a point where I could only rely on Salamence against non-standard teams or weaker players, because most of the teams I saw during the Elite 4 Challenge were more than prepared to deal with Double Dragons, especially one that was locked in with a scarf.
After the Qualifiers, I realized that Scarf Salamence was more liability than boon - most of the battles I brought it for, I ended up losing, and by Day 2 I pretty much never brought it ever. After a discussing the problem with my brother, Aaron Traylor, and Matthew Hui, I finally decided to be completely true to paying homage to my brother and tossed a Life Orb onto Kitty instead. (Kit Meng swears by Life Orb Salamence if he absolutely has to use it.)
While it was scarfed, Hydro Pump was run because I always found water coverage useful on Salamence for some reason and always seemed to pick it over Fire Blast when the opponent didn't have a Mawile/Amoonguss/random fire weak Pokémon on the team. Rock Slide was because I hate Talonflames and like to fish for flinches, Draco Meteor for STAB, and Fire Blast because there's nothing more satisfying than Fire Blasting a Mawile/Amoonguss in the face; especially more so if they aren't EVd to take LO Fire Blast and faint. Unfortunately, the lack of accuracy with Salamence made me very reluctant to depend on it consistently, and I've learned to play around without its intimidate, though there are times when it does shine and prove its worth.

Myrmidon the Aegislash @ Weakness Policy
Quiet, 31 Speed IV, 252 HP/252 Sp.Attack/4 Sp.Def
Shadow Sneak/Shadow Ball/Flash Cannon/King's Shield
Aegislash was one of the very first members of the team - the original 'core' of the team was supposed to be Kanga-Aegis. And well, generally it worked. Kanga absorbed the ghost attacks meant for Aegis and Aegis absorbed the fighting attacks meant for Kanga, both of them were powerful Pokémon in their own right, and they both worked well with the other members of my team (except Garchomp; Garchomp had a tendency to want to earthquake them).
While originally I did play with the Substitute Aegislash set, the very first Aegislash set I was introduced to was the Weakness Policy one, and all too often, I always found myself wishing for WP Aegis's power or, more importantly, Shadow Sneak. Far too often, I found that opponents weakened by a previous attack would presume Aegislash would be unable to take them out since there's a mentality that 'nobody runs Weakness Policy Aegislash because it's a gimmick' and thus go for a King's Shield or something, and they would leave Aegis alone. Shadow Sneak has been able to turn my matches completely around simply because of this, and quite honestly, I could run any other item on Aegislash; but I just really wanted Shadow Sneak.
Weakness Policy itself wasn't a really bad item either. True, it was unreliable for the triggers, but when it did trigger, the power was enormous, nabbing OHKOs against all manner of Pokémon and making Shadow Sneak incredibly dangerous. Moreover, it also tended to make the opponent panic a bit, making them somewhat easier to read once they went 'Oh Shit I Need To Stop That Aegislash'.
Also, well, Aegislash has saved my life countless times in matches. There are times where I'm literally down to Aegislash against three pokémon, and when I somehow win, I'm pretty sure that Weakness Policy was probably the cause. I run it for the surprise value, and even without it, Aegislash is still a valuable member of my team- shoring up my defenses with its neat ghost/steel typing, allowing it to switch into dragons and fighting types with ease. Also it became my normal 'counter' to Trick Room pokémon and Mawile.
I bring Aegislash in most of my matches where I bring Kangaskhan, and for the most part, I don't ever regret it.
<Team Weaknesses/Synergy>
Fact: I have never in my life found a team that synergizes together as well as this one. (Not that they don't exist; I just haven't found a better one.) Nor have I found a team that was so frustratingly, intrinsically good. I know this sounds like me gushing over the team, but hear me out. Generally, when we consider team synergy, we consider how teams deal with threats to individual Pokémon, and how they work around it through careful playing and switching. On some level, all 'good' teams have that, but for this team- this team was golden. For me, this team was literally a toolkit with the answer to everything packed within 6 Pokémon - they synergized well defensively and offensively and could take out each other's threats, there was a good balance of defensive bulk and offensive power, there was speed control on some level, had Intimidate to handle physical attackers, had priority attacks to handle faster Pokémon, Quick Guard and Lum Berry could be employed to deal with disruptive Pokémon, and I could set up to pull out my own win conditions - in all my time using this team, I think for the most part, I lose not because of the team, but because of me, as the trainer.
If there is any weakness in the team, it would be the fact that it is rather prediction heavy. During Day 1 of the Qualifiers, I wasn't in the right frame of mind, and regardless of how hard I tried, the team flopped. Badly. Sometimes it feels like that because there are so many tools for you to use, you sometimes default to the wrong one; and that it takes a lot of careful consideration to realize what you need to do with this team rather than just depending on the Pokémon's base power and stats to muscle your way through victory. Honestly, while on lower levels of play that would probably work, on higher levels of play, it's highly likely that because the team is so goomy-blasted standard that your opponents will know exactly what your Pokémon are even before you start the battle, and they have counters to your strongest mons (aka poor MegaMom).
Generally though, I play under the assumption that everything and anything will try and is capable of taking out my team, so to be honest, if I wanted to write a threat list, it'd probably be just about every single Pokémon in the metagame.
And well, if I had to really think about it, I think teams with either Mawile or Salamence would actually prove a danger for this team. Mawile automatically threatens half of the team, and Salamence (especially the scarfed variants) can easily take out or heavily dent one or more members of the team before I can stop it. While they can be worked around, playing becomes immediately more difficult around them.
EDIT (after two months from the original writing of this report): Tyranitar itself proves a danger to my team. While it can be played around, WP Tyranitar can easily take out the majority of my members if I let it (with Rock Slide and Ice Beam taking out the majority), and would happily take on Kanga and OHKO it back with Crunch. Dragon Dance Tyranitar, likewise, can threaten my pokemon although it can be checked with Aegislash, Garchomp, and Kangaskhan, but against good players the very presence of Tyranitar puts my team in incredible danger.
So on that note, on to the leads!
<Lead Options>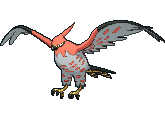 This was generally my default lead. Perhaps the wide variety of Talonflame's support options that enable Kangaskhan to set up easily and quickly, or maybe because Fake Out+Tailwind was a quick way to seize offensive momentum in one turn with minimal risk to both Pokémon. Maybe even because Fake Out, Sucker Punch, and priority Brave Bird meant that I could severely damage Pokémon before they could even move (or even knock them out entirely), or force them into defensive moves, which meant Talon stayed alive longer and Kanga could get Power-Up Punch off.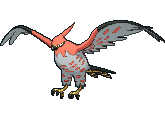 This is actually my second-favorite lead, especially against Kanga-unfriendly teams. Like with the Rotom-W and Garchomp pairing, both Pokémon have a wide range of offensive options that give me really strong offensive pressure right from the start. Quick Guard also blocks stuff like Ice Shard, Fake Out, and Sucker Punch, enabling Garchomp to go on a rampage if it needs to. Also with quick Tailwind setup, this lead option enables Garchomp to threaten things faster than it that carry HP Ice like Manectric or Pyroar.


Although I never really used Double Dragons much as I preferred my Fake Out support more, I'm told that Salamence and Garchomp is a strong multi-purpose lead option. That said, there always were other leads that worked better against other teams; although there are occasions where I did employ double dragons to overwhelm weaker players or teams that had a weakness to repeated dragon attacks. Still, the very presence of double dragons on my team is more than enough to lure fairies out as leads, and honestly, I think that's more than enough to help ease prediction of what my opponent is going to bring.